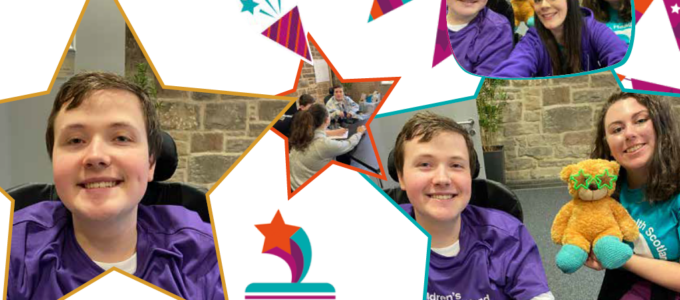 Volunteers' Week 2022 is a time to say thanks. This week is an annual celebration of the contribution millions of people make across the UK through volunteering. Volunteers play a key role in the running of charity work, and Children's Health Scotland is no exception. We are proud to support so many children and young people with health conditions and we feel honoured when anyone of any age and background volunteers and contributes to our work.
Gill Sutherland, Head of Children's Health and Wellbeing Services for Children's Health Scotland, said: "Volunteering can be a great way for young people to learn and develop new skills, gain experience for their future and 'give back' to an organisation that has previously offered them support. At Children's Health Scotland, we value the contributions that young volunteers can make to our vision, which is for every child and young person in Scotland to realise their right to best quality healthcare. Not only do they offer their time, support and skills, but they can also provide peer support, which can be invaluable."
One of our volunteers is Beau, who recently participated in our SMS:F2F Programme. This is our in-person programme running in Edinburgh and the Lothians, which supports children and young people with a long-term health condition to cope with their health condition, build confidence and self-esteem and get to know other children and young people facing similar health challenges.
Beau has just started volunteering for Children's Health Scotland. He has recently left school and is looking forward to starting college with the hope of eventually doing photography…
CLICK HERE to read Beau's full story in the Summer 2022 magazine.