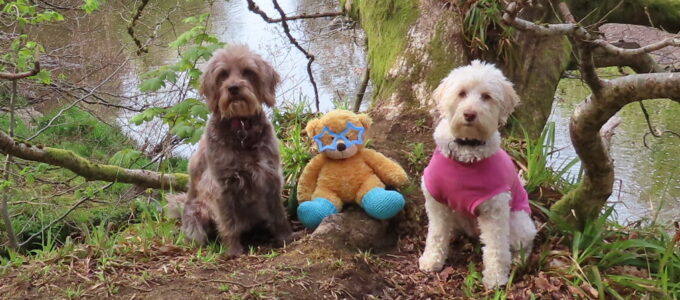 January is Walk your Dog Month. They say that a dog is for life, not just for Christmas, so to everyone who made a new furry edition to their family at the end of 2021, here are some great reasons why dogs are man's best friend.
Health
It can be easy to not go outside these days due to social distancing measures. Many adults are working from home and a lot of young people prefer to socialise with their friends online and in video games after school. This means not many of us are going outside unless it's necessary. Walking your dog will give you a great reason to breath the fresh air, get physically active and have fun.
Esther Bates, Marketing and Fundraising Assistant for Children's Health Scotland, said "It is essential for children and young people to get plenty of fresh air and movement, even more so over past couple of years. Walking is one of the best exercises out there for it's health benefits and simplicity, as well as being fun if you can play with a dog along the way. If you needed anymore reasons to go for a walk, you can read our article discussing three benefits of walking."
As well as the physical health benefits that come from walking on a regular basis, being in contact with a dog is shown to improve immune system and allergic reaction in children.
Friendship
Dogs are also great companions for children. There is a wealth of research showing the impact spending time with a pet can have on children with long-term health conditions, such as anxiety and autism. Studies have shown that dogs can increase independence, assertiveness and confidence in autistic children, as show in this article. Some schools may have a school dog who the children can interact with as spending time with dogs is shown to have a soothing effect. A school dog can also create a more enjoyable school environment and encourage children to attend school, reduce stress and learn more.
Learning
Taking care of a pet will also teach your child responsibility as it can be a challenging but rewarding experience to care for a dog who relies on you so much. Your child or young person will learn how to feed and walk your pet so that it stays healthy and how to play and care for it so that it remains happy. This in turn will give your child a sense of achievement and pride in themselves.
Dogs have also been shown to be useful in the classroom for children who struggle to read aloud. Children who feel anxious when practicing reading aloud because they are afraid of making mistake will often feel more comfortable reading to a dog because the child does not feel judged by the dog.
You can find advice for how to look after your dog on the RSPCA website, including how to care for your dog and how to ensure children and dogs live safely together. If you do not have a pet dog currently, then you should consider if you can fully care for a dog before bringing on into your family using the RSPCA resources above.
At Children's Health Scotland, we believe every child has the right to the best possible health. You can find more information about the rights of children and young people with health conditions here and throughout our website.