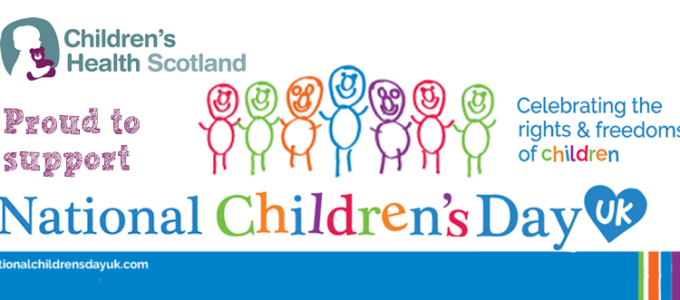 Sunday 16 May 2021 is National Children's Day UK (NCDUK) – a day which is all about the importance of a healthy childhood and how we need to protect the rights and freedoms of children and young people to ensure that they can become happy, caring and connected adults.
From family videos to school and community events, local authority initiatives, talks, seminars, and youth led campaigns, NCDUK is a great opportunity for everyone to raise national awareness about the things they care about – and especially about the impact of COVID on children and young people.
"Children's Health Scotland is proud to support National Children's Day which showcases the importance and right for every child to be happy and healthy while growing up," said Helen Forrest, Chief Executive of Children's Health Scotland.  "We work to make sure children and young people receive the best quality healthcare and understand the importance of a healthy childhood.  Our work includes advocating for health-related play.  More than just a chance to have fun, we understand that play is a serious business when it comes to a children's health and can help children physically, mentally and emotionally, so this year we are encouraging health-related play for NCDUK."
Health-related play is used to support children and young people in the understanding of their medical conditions and treatments, and to adopt life style changes that are required to manage long-term conditions. One of the best ways for children to stay both physically and mentally healthy is through access to play experiences. Health-related play helps a child:
prepare for treatment;
explore and express feelings/fears;
develop practical skills; improve creative thinking; and
increase their knowledge and understanding.
Commenting on health-related play Dagmar Kerr, our Health and Wellbeing Co-ordinator based in Greater Glasgow and Clyde said: "Recent COVID-19 restrictions have certainly made us more creative in relation to health-related play. We know that children have the right to play which is underpinned by UNCRC Article 31 and EACH Charter article 7, and that playing is especially important to help them to explore and deal with medical experiences. We also know that at least 50% of all children will have had a hospital experience by the time they are 5 years old. So, when COVID-19 restrictions meant that we could no longer visit children in schools or nurseries, we adapted our Health-related Play Box resources to online workshops with tremendous success. If you are interested in finding out more about these you can check them out online or give our office a call on 0131 553 6553."
Mrs Sarah MacFie, Primary Acting Principle Teacher at Battlefield Primary School, which was one of the first schools to try out our online Health-related Play workshop.  She said: "The children in my P2 class thoroughly enjoyed the play workshop, and, at a time where visitors to school are very limited, really benefitted from being able to have someone 'in' their classroom (albeit in a slightly different manner!). Dagmar talked through the items in the box and was on hand to answer any questions that arose as a result. All the materials in the Play Box provided hours of relevant and engaging play, both through teacher led activities – discussion and story books – and more imaginative play, whereby the children used the equipment to recreate a doctor's surgery, hospital setting and opticians – the opportunities wee endless! The children are already very used to learning through play, so the box perfectly complemented this. They were very excited by the range of resources provided, and every child shared that they felt more confident attending a medical setting as a result of the session."
Health-related Play Workshops let children and young people enjoy play whilst discussing more about their right to play which is fundamental to their health and wellbeing. They focus on putting the child at the centre and how, by using play, children and young people have the right to be heard and understood and to express their feelings.
For more information on Health-related Play Boxes and/or to book a workshop (subject to availability) visit  https://www.childrenshealthscotland.org/resource/hospital-playboxes/ or telephone 01315536553.
#NCDUK2021