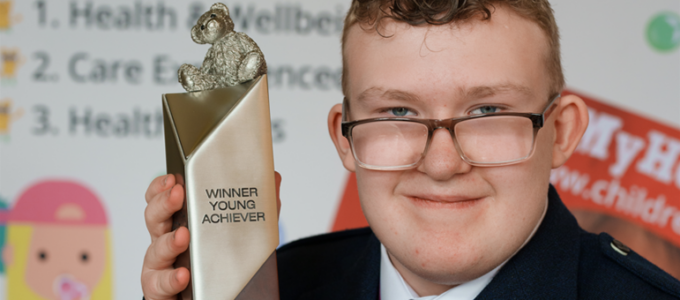 The Young Achiever Award recognises a child or young person who has shown great determination and courage in their life – and our winner, William Kilpatrick, from Glasgow, is a shining example.
William's heart condition was diagnosed before he was born. At just 28 weeks doctors discovered he had no heart valve. The first three years of his life were spent in hospital, and he endured endless infections, low blood pressure and severe bouts of vomiting – all associated with his condition. Before the age of five he had undergone two open-heart surgeries.
Now approaching his 15th birthday, William is still undergoing treatment and has just had a pacemaker fitted. But whilst his life has been dominated by hospital visits and medical intervention, William has never let it get him down and his charisma has always shone through.
"He's always smiling; no matter what procedure he's having done he always has a huge smile for the nurses and for me," says his mum Kat.
At such a young age William has endured serious health implications related to his illness, including kidney failure and stints in intensive care. But he's a typical teenager and enjoys the things most others his age like to do. He's a fan of Partick Thistle and loved being a mascot at their match against Inverness Caledonian Thistle.
He's also a fan of musicals and he and mum Kat have made trips to see Mamma Mia and Hairspray. Wicked is on the list next, and he's looking forward to seeing the Jonas Brothers in concert next year.
And thanks to the care he's receiving, his mum says he has a lot to look forward to. "His future is bright now. He has more independence and can go out with friends; it's a lot more positive."
William was nominated for the award by Lyn Deans, a volunteer at the ward William was a long-term patient in, and Wendy McKechnie, a Play Assistant in Glasgow Children's Hospital Play Team – who have been instrumental in helping William throughout his hospital stays. "The positivity from the nurses is amazing," says Kat. "He loves doing arts and crafts with Wendy and has made loads of paintings for the hospital walls. He even calls the Head Nurse Aunty Louise!"
Such is the close bond between the staff and William, Kat decided to let Wendy give him the news that he'd won the award. "I wanted to give Wendy the pleasure of telling him since she nominated him." And his reaction? "He was ecstatic. His face went red, and I knew he was really pleased, it's given him confidence."
William dreams of becoming a police officer and is hoping to sign up to become a police youth volunteer. "I'm so proud of the young man he's becoming," says Kat. "There's a lot of good things for him to look forward to; his future is smiling!"
On choosing their Young Achiever, the judges said that this award was always one of the most difficult categories to consider. They were once again blown away with the entries this year and in choosing their winner they have recognised an extraordinary individual. They said: "William has shown remarkable spirit in overcoming adversity. He goes above and beyond to achieve so much to support others and to inspire others to overcome their own difficulties. He is a wonderful example to us all."
Congratulations William on winning the Children's Health Scotland Young Achiever Award.