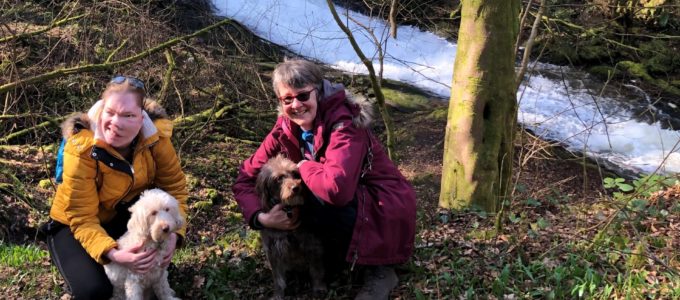 With current lockdown conditions it has been difficult to keep the voices of families and carers at the forefront of the delivery of the Social Work Programme at Edinburgh Napier University.
Dagmar Kerr, who runs our Children's Health and Wellbeing Service in Glasgow, has been involved with the programme for many years, working alongside Susanne Goetzold of Edinburgh Napier University. So that the programme was able to continue to teach students through 'real life' experiences during lockdown, Dagmar engaged the help of the Children's Health Scotland 'Family Participation Group'.  Through this involvement, the sharing of experiences and the production of films, the voices of families and carers has now continued to be a vital part of the Social Work Programme for students.
Speaking about the partnership, Dagmar said:
"One of the key strengths of our team at Children's Health Scotland is the broad variety of professional and personal qualifications and experiences. Professional qualifications include teaching, psychology, equality and diversity, pedagogy, nursing and marketing, and although this was never a deliberate intention when recruiting staff, a number of our colleagues have personal experiences of caring for a sick or disabled child. This "dual qualification" adds a dimension to our work which is greatly appreciated by professionals we work with.
"About a year ago, we were approached by Susanne Goetzold, who is a lecturer in social work at Napier University. She was hoping to be able to interview families who had experienced working with statutory services like local authorities, social work, healthcare system and education services. She wanted to use these interviews to teach her students through "real" experiences.
"CHS has a 'Family Participation Group' with members who are parents, foster and kinship carers. I am one of the members and I am mum to Lisa (29), who has a rare brain condition, epilepsy and a learning difficulty. We both agreed to separate video interviews with Susanne and shared our experiences (some excellent, some less so) with the above services."
Since recording these interviews, Dagmar and Lisa have also met with the students and were able to discuss some of the questions that had arisen following their stories. Lisa's account is very personal and covers issues like the need to be fully informed and to participate in decisions about her life, while Dagmar spoke about the efforts and perseverance it sometimes takes to achieve the best possible outcomes for her daughter and to ensure that her rights as an individual were being met.
Lisa and Dagmar also shared successes and were able to point out how important it is to have a well-coordinated service. Dagmar has been a colleague at CHS since 2001, and her work experience is influencing her support for Lisa as much as her personal experiences are influencing her work.
Commenting on the partnership Susanne Goetzold said:
I want to thank both Dagmar and Lisa for their help during lockdown and to Dagmar for her continued involvement in and support of our Social Work programme at Edinburgh Napier University.  With the current lockdown, it has been so difficult to keep the voice of service users and carers alive in the teaching materials.  Having their videos means that I am able to deliver the intended teaching input along the same lines as last year.  The content of the two videos are so rich.  They will enable us to consider topics such as Children's Rights, the transition from children to adult services, competing needs and demands and a whole range of ethical issues, which are difficult to teach on a theoretical level.   I was initially really upset that we would not be able to see Dagmar in person, but it is wonderful to know that our students are still be able to benefit from interviews and knowledge provided by Dagmar and Lisa.  I cannot stress enough how important this direct link is for our students – even more so at the moment, when they are unable to go out and visit agencies or see people at the university.  Their input and their ability to communicate is providing invaluable learning and will contribute to the assessment for readiness of students to go into placement. I cannot thank them enough for making time to work with us on this programme.
Children's Health Scotland participates at all levels of planning and policy making – locally and nationally. This is only achievable for the charity through the involvement of families – parents, carers, grandparents, children and young people. Their knowledge, experience and needs help to inform and shape the work of the organisation and they are critical to influencing the planning and delivery of services.  Children's Health Scotland has often been described as a "bridge" between the provider and the user, for families to have their voice heard to shape services.