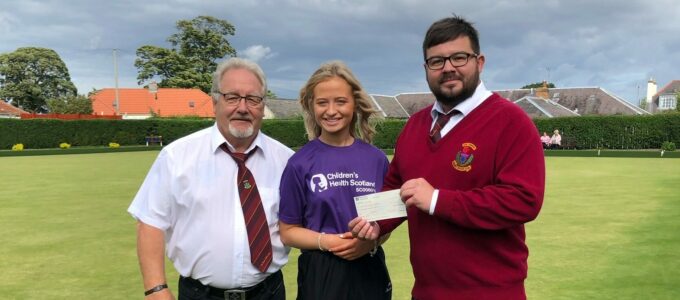 Welcome to the first day of Scottish Children's Health Week 2021! It's #BEACTIVE Monday which means the aim of today is to get moving to help our physical and mental wellbeing. In the SCHW21 Activity Book, you can find four great ideas for how to move more no matter what your ability level is, including "Journey Sticks" from Teapot Trust. However, there is more than one way to #BEACTIVE. You can also actively support Children's Health Scotland (CHS) in so many ways.
Create a Fundraising Event
You can create a fundraiser based on any event or activity you enjoy, such as baking, video games and in Lucy Walker's case: Bowling. Lucy is the inspiring 16-year-old who was diagnosed with rheumatoid arthritis and Lupus and referred to Children's Health Scotland's SMS:CONNECT program. Lucy has already raised £5,130 for CHS and says on her JustGiving page: "the SMS:CONNECT program helped me through learning about my health rights and being open and honest with other young people who are finding it hard to deal with the news of their health condition. After I had finished the SMS:CONNECT program, Children's Health Scotland still continued to support me through having zoom calls, texting me to make sure I'm ok. This is the reason I am fundraising for Children's Health Scotland. They helped me so much and I wouldn't be where I am today without them, they showed me it's okay not to be okay, and that being honest and open is the best policy."
Lucy's Bowling Fundraiser took place on Saturday 14 August 2021 at Ormiston Bowling Club. Lucy worked hard on preparing for this fundraiser and was gifted some fantastic auction prizes including signed shirts and football boots from Midlothian Football Club and a session with an international bowler, Alan Marshal.
Laura Smith, Head of Children's Health and Wellbeing Services said: "We want to say a huge thank you to all of Lucy's friends, family and supporters who helped to make the day such a success. The money that Lucy has raised will help us provide valuable support to other young people with health conditions. We are very proud of Lucy and what she has achieved, and incredibly grateful that she chose to fundraise for Children's Health Scotland."
We are incredibly grateful for the huge help that Lucy has given to CHS. If you would like to #BEACTIVE for Children's Health Scotland and create a fundraising event to support us, then do not hesitate to contact us.
Take Part in Running and Walking Events
Do you want to set a fitness goal or start running for the first time while supporting children's health and wellbeing? We have spots in the Kiltwalk and many other running and walking events around Scotland, from beginner to advanced ability. If you are interested, then contact us and we can support you throughout your fitness and fundraising journey. You can #BEACTIVE and support our work to help children and young people across Scotland.
Donate
Children's Health Scotland has an online donation link where you can gift us any amount you are able to. Every donation really helps us to support the health and wellbeing of children and young people in Scotland and to deliver our services and resources to those who really need them the most.
Share our Work
If you would like to support Children's Health Scotland but are unable to spare time or money, then one simple thing you can do to help us is to share the work we do by visiting our website, reading our quarterly magazine and following our Facebook and Twitter  pages. Sharing our work and resources helps us to reach the children, young people and families who may need our help.
If you would like to create, take part or discuss a fundraising event, do not hesitate to email us at fundraising@childrenshealthscotland.org