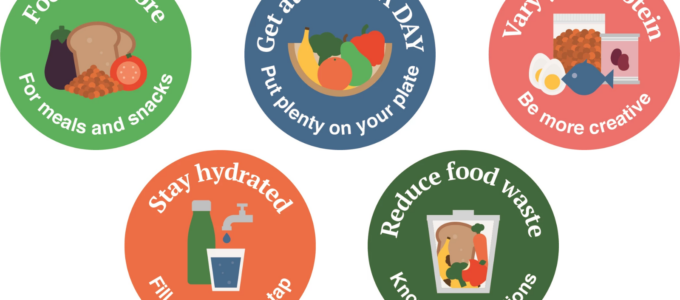 Healthy Eating Week takes place from 13 – 17 June 2022. This year marks the 10th year anniversary of the British Nutrition Foundation's Healthy Eating Week. It was a great chance for everyone to focus on having a healthier and more sustainable diet. While the week may have ended, it's not too late to use the five great tips we learned this week to help us all eat healthy.
Esther Bates, Marketing and Fundraising Assistant for Children's Health Scotland, said: "Good nutrition is an fundamental component in everyone's health, especially children and young people who are growing. The nutrition we take in in our formative years is most important as it ensures healthy development of body and mind, which will can then stay with us throughout our lives. Most importantly, a healthy diet, full key nutrients and minerals, is essential to recover from illnesses and injury. Despite the importance of good nutrition, it can be hard to to know what is good for for us and what isn't sometimes. That's why we appreciate the British Nutrition Foundation's concise and easy to understand tips for a healthier diet."
The key message for the Healthy Wating Week 2022 was "Eat well for you and the planet!" with the five following daily themes:
Monday: Focus on fibre – for meals and snacks. Have more wholegrain foods, fruit and vegetables, beans, peas and lentils.
Tuesday: Get at least 5 A DAY – put plenty on your plate. Have at least 5 portions of a variety of fruit and vegetables every day.
Wednesday: Vary your protein – be more creative. Eat a wider variety of protein foods and choose plant protein sources more often.
Thursday: Stay hydrated – fill up from the tap. Have about 6 – 8 drinks a day and choose reusable or recyclable drinks containers.
Friday: Reduce food waste – know your portions. Aim for the right amount when you shop, cook and eat to avoid throwing food away.
Experimenting with one or even all five of these daily ideas can have huge benefits for your long-term health and wellbeing. We have a recipe for Hidden Vegetable Sauce which can help to get your 5-a-day, increase fibre intake, and reduce food waste. The Healthy Eating Week website also has plenty of resources and recipes to help you get started.