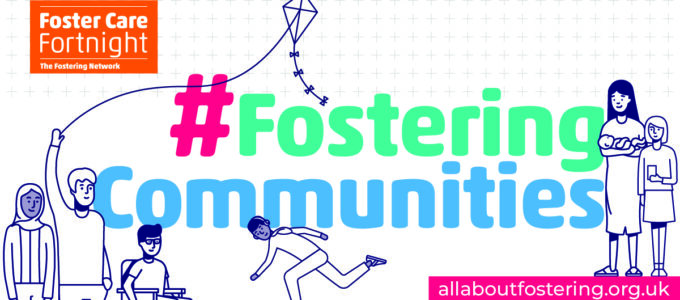 Foster Care Fortnight is the UK's biggest foster care awareness raising campaign, delivered by leading fostering charity, The Fostering Network. Running from Monday 15 May – Sunday 28 May 2023, the theme this year is #FosteringCommunities.
Established in 1997, the campaign showcases the commitment, passion and dedication of foster carers. It also supports fostering services to highlight the need for more foster carers. Thousands of new foster families are needed every year to care for children, with the greatest need being for foster carers for older children, sibling groups, disabled children and unaccompanied asylum-seeking children.
The Fostering Network website says: "Last year's campaign also followed the #FosteringCommunities theme. We received a huge amount of positive feedback from members, who felt the theme gave them many opportunities to shine a light on fostering. For this reason, we decided to carry the theme over to Foster Care Fortnight 2023 and can't wait to see how our members showcase it.
Whether you're a foster carer, a social worker, young person, Fostering Friendly employer or supporter of foster care you are part of a community making a real difference to the lives of young people, and we want you all to get involved in the Foster Care Fortnight celebration."
Monday 15th May – Foster Carer Wellbeing
Anne Wilson and Sarah Nelson from the Children's Health Scotland Care Experienced Children and Young People Services were invited to deliver an online interactive training session during Foster Care Fortnight 2023.  On Monday 15th May, Anne and Sarah delivered a two-hour session focussed on "Foster Carer Wellbeing". Never before has the wellbeing of foster carers been so important as we come out of a chaotic three years of the pandemic and a cost-of-living crisis. This session explored the importance of foster carers wellbeing, use of self-care techniques and how you can use your fostering community for support. "Foster Carer Wellbeing" will soon be available to watch on the Children's Health Scotland and The Fostering Network website.
Regarding the session, Anne Wilson said: "Sarah and I were both delighted to be delivering the very first session of Foster Care Fortnight 2023. The idea for this webinar came directly from foster carers who, having completed one on Understanding Trauma and a follow up session on Calming Techniques, then told us they needed something for them on Self-care or as we like to say Looking After Themselves."
This educational, informative and interactive session exploring the impacts of trauma on children and young people you look after and how you support their recovery. This training will be delivered by Children's Health Scotland trainers Anne Wilson and Sarah Nelson and supported by The Fostering Network.
In this interactive session, foster carers will develop an understanding of the impact of trauma on children and young people and alongside Anne and Sarah explore the ways to support recovery. A really insightful session, that will benefit all foster carers looking for a more in-depth understanding of trauma and explore ways to help recovery.
To register for this event email the Scotland team scotland@fostering.net detailing your wish to register for event.
The Fostering Network will be hosting many fun and interesting events until Saturday 27th May so please check them all out! You can see what events are taking place around the UK HERE – joining instructions are provided on each event listing.
If you would have any queries about Foster Care Fortnight please contact FosterCare.Fortnight@fostering.net
Children's Health Scotland gives advice, workshops, and other help to foster and kinship carers. Learn more about our Care Experienced Children and Young People Service and watch their workshops HERE.