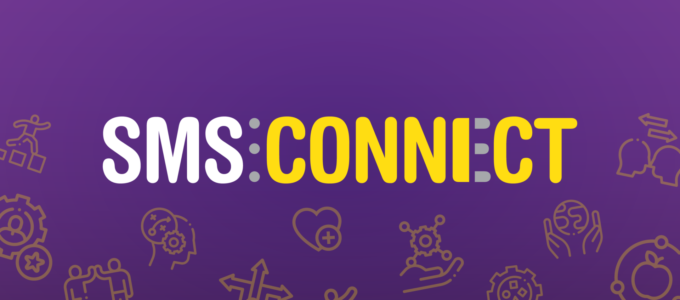 If you or someone you support is aged between 10 and 17 and is living in Scotland with a long-term health condition, you might be interested in joining our online Self-Management Programme, SMS:CONNECT. This six-week group Programme can help children and young people to take steps towards increasing their confidence and self-esteem, accessing information, and developing skills that can help them to cope better with their health condition.
Since launching our first SMS:CONNECT in the Summer, we have run five Programmes in total and have supported over 40 children and young people living with health conditions in Scotland, to improve their confidence, self-esteem and help them to better manage their health and wellbeing. We have asked participants what they enjoyed about the Programme and what advice they would give to young people who weren't sure whether SMS:CONNECT is right for them – here is what they said:
"I will use the breathing exercises and I feel more confident talking to other people. It was nice to know that other people feel the same as me and worry about the same things."
 "I loved the scavenger hunt. I was really shy at the start but really loved it after the first week."
"I would strongly recommend [SMS:CONNECT] because everyone was super friendly all the time and it was a great way to relax"
Throughout the six-week programme we meet twice a week in the evening and cover a range of health topics, from coping with anxiety and anger, to speaking to health professionals about your condition. We encourage participants to share their own experiences if they feel comfortable doing so, and we have a weekly relaxation activity where we try out a range of different techniques to make sure there is something that everyone will find helpful. Every session is filled with plenty of games, quizzes and discussions so that the children and young people who take part have the opportunity to make friends and socialise with others who are facing similar experiences to their own.
Participants are also allocated a Coach, either Laura Smith, Head of Children's Health and Wellbeing Services, or Izzie Turley, Children's Health and Wellbeing Assistant, who provide 1:1 support throughout the Programme, as well as delivering the group sessions. Laura Smith said of the service: "We know that the children and young people who take part in the SMS:CONNECT Programme really value having time to talk about their health and wellbeing, and to learn about coping skills, as well as having opportunities to meet with other children and young people with health conditions."
Naomi took part in our Summer 2020 Programme and kindly shared her experience with us: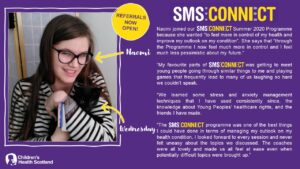 If you would like to take part in our January 2021 SMS:CONNECT Programme, please make a referral using the button at the top of the website: Children and Young People's SMS:CONNECT Service – Children's Health Scotland
If you have any questions regarding the Programme, or any of the services we offer, please get in touch at sms@childrenshealthscotland.org and we will get back to you as soon as we can.