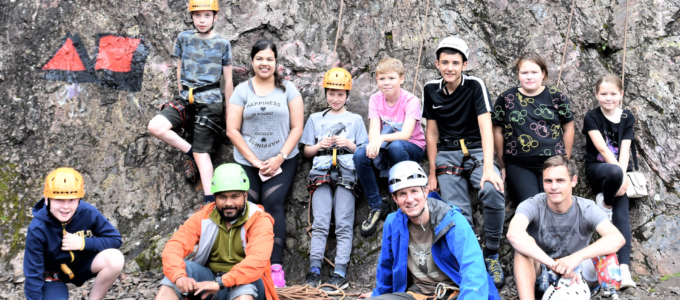 Children's Health Scotland offers a Self-Management Service for children and young people with long-term health conditions.
Two age specific programmes are available, one for children aged 10 to 12 and one for young people aged 13 to 17 years. Each programme consists of six workshops which focus on increasing mental and physical wellbeing. It also looks at how young people can manage stress, emotions, friendships, feelings, healthy eating, talking with parents/carers, teachers and health professionals.
Information for upcoming programme can be downloaded from the links below:
We are committed to providing children and young people and their families a service that will benefit the management of your long term condition. To find out how we process your data, please see below our Privacy Policies.
Read Privacy Policy for Parents and Carers here
Read Privacy Policy for Children and Young People here
What is Self-Management?
Self-management puts people living with long term conditions in 'the driving seat'. It supports and encourages people to access information and to develop skills that will enable them to live their lives on their terms.
Self-management is not a replacement for health or other services. It's about working with people who can provide the right support at the right time to enable individuals to choose how they want to live with a long term condition(s). Self-management does not mean having to manage alone without support. It enables people to make informed choices about how and when to draw on different kinds of support.
Self-management is a process in which people with long-term illnesses are empowered to take charge of their condition and its impact on their quality of life. Self-management is not an individual action, specific treatment or service. It has to be tailored to each person's needs, circumstances and wishes. It supports people to live full lives while dealing with the reality of living with a long term condition.
What happens at workshops?
Our Self-Management Service team provides the self-management workshops (three full days or six half days). The sessions are directly shaped by the children and young people participating and include fun activities such as music therapy, bowling, pizza and movie nights, peer support training and healthy cooking. The following list is not exhaustive and may vary depending on participants but sessions include:
Understanding self-management and NHS structures
Understanding and coping with emotion
Communication: family, friends, health & education professionals
Building confidence
Resources needed to self-manage e.g. coping with stress, pain, healthy exercise and food.
Engaging and socialising with peers. This will be both within and out with the workshops.
What did our young people say?
The Self-Management Service was successfully evaluated externally. 84% of all children and young people, parents and clinicians interviewed reported an increase in confidence. Read the Executive Summary Report here.
Confidence before the Programme I was unable to leave the house, and now I do.
Feeling Different I feel better about myself being the different one.
Communication I dinna walk away from people any more, I stay and give a proper conversation
Included by Peers I get involved with others, I used not to… I started to do stuff with my friends.
Self Esteem I don't care how people see me any more, the way I am the way I dress and stuff like that.
Talk Openly When people ask me certain questions to do with activities like walking – like why I'm not able to walk so far? I'm able to explain.
Decision Making I know that I can go out and do stuff when I don't feel quite as well.
Knowledge of Support I know about some of the things in the hospital you can get
I could come here and talk about my illness and everyone could relate. MW
That I could learn better ways of coping and could talk to people my age. CM
I'm looking forward to coming back!
"…Meeting people who understand what I'm going through…"
"…Being able to relate to other young people with a condition like me…"
"…I've gained more confidence around new people about talking about my condition…"
Parents
Loved the fact he was with people that understood him and that he felt comfortable in the group. Parent of KP
Parents weren't included in the group at all, I think that was actually a very good thing, that made it focus on her and the other girls. She has been to so many appointments and places where I end up being the one that does the talking, but this is very much focused on her. Parent of CM
Clinicians
"I just wanted to feedback that one of the diabetes patients that came to clinic last week was really extremely positive about their experience at your self management workshops.  She spontaneously told me all about them, found the workshops themselves really useful, Mum reported that she had been much happier in herself after the programme, and she has made some good friends with others that attended.  It has also made a difference to her diabetes management as she is now using her libre sensor again, having seen others using it helpfully at the sessions". Diabetes Clinician
Very helpful for the treatment I was giving because it reinforced anxiety management strategies such as breathing relaxation distraction. Guided Self Help Clinician
 Want to know more about the service?
If you are a child or young person, parent or carer, or work in health, education or the voluntary sector in Edinburgh and the Lothians and would like more information, contact the Self-Management Team on 0131 553 6553 or email enquiries@childrenshealthscotland.org.