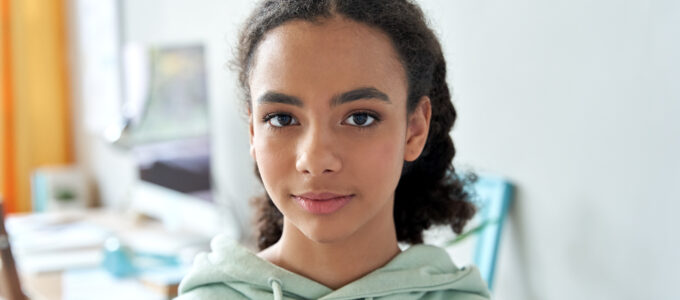 The SMS:CONNECT Programme delivered by Children's Health Scotland was announced as the winner of the Digital Innovator Self-Management Award at the 2021 Self-Management Awards organised by the ALLIANCE.  The Award Ceremony, which was a celebration of all things Self-Management in Scotland, was held online on Wednesday 29 September 2021 and hosted by STV Presenter Laura Boyd.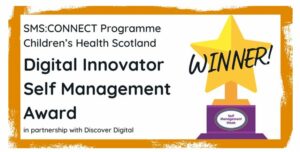 The Digital Innovator Self-Management Award was delivered in partnership with 'Discover Digital', Scotland's first public-facing initiative to discuss how technology can help us live better and healthier. In a year in which all our lives have by necessity adopted a far more digital lens, this award focused on what stood out as real innovation in the use of digital technology. The innovation element could be associated with finding new ways of working digitally, reaching out to new audiences through digital media or the use of new technology for Self-Management.
Commenting on the Award, Helen Forrest, Chief Executive of Children's Health Scotland said: "The evening was really inspirational as it showcased the very best projects, individuals, and organisations involved with Self-Management in Scotland.
"We were shortlisted with two other amazing organisations, Leuchie House and the Moira Anderson Foundation, so being announced as the winner of the Digital Innovator Self-Management Award was a huge honour for the charity.
"The health and wellbeing of children and young people with health conditions lie at the heart of what we do. I am so incredibly proud of everyone at Children's Health Scotland, which includes our amazing children, young people, and volunteers, who have all risen to the challenge presented by COVID to develop and deliver what is now an award-winning Self-Management Programme that will continue long-term. I would also like to say a huge thank you to the trusts, foundations and fundraisers who make our work possible.
"To be recognised for this work and our commitment to our children and young people is so incredibly rewarding and I would like to thank the ALLIANCE for this award."
SMS:CONNECT Programmes
Self-Management means improving the relationship you have with your health and wellbeing and building your confidence and self-esteem. SMS:CONNECT  is an online Self-Management Programme developed with the help of children and young people with long-term health conditions.
The Programmes are fun, informal, and friendly and are designed for children and young people aged 9-17.  The online six-week group programme seeks to improve confidence, self-esteem and communication skills through health and wellbeing discussions, games, relaxation, and peer support, so that participants feel better able to cope with their health condition.
SMS:CONNECT is part of a suite of Self-Management services offered by Children's Health Scotland.  If you would like to find out more CLICK HERE.