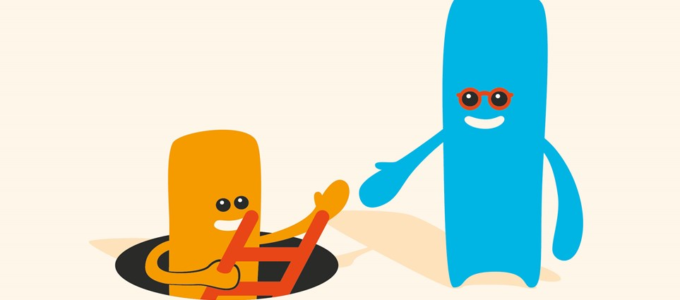 The SMS:HUB is a monthly online meetup for children and young people who have completed one of our 6-week Self-Management Programmes, SMS:CONNECT and SMS:F2F. These sessions are fun, interactive and aim to reinforce skills learned throughout the SMS Programme, to boost self-esteem and confidence, improve communication skills and provide essential peer support so that participants feel better able to cope with, and manage, their long-term health conditions and mental wellbeing.
For our September SMS:HUB we partnered with See Me Scotland, Scotland's Programme to tackle mental health stigma and discrimination. They are working towards achieving the Scottish Government's commitment to create "a Scotland where people can get the right help at the right time, expect recovery, and fully enjoy their rights, free from stigma and discrimination". We know that children and young people living with long-term health conditions are more likely to experience loneliness, isolation and poor mental wellbeing, which is why we were so excited to work with See Me to put together an exciting SMS:HUB session for our groups!
The SMS Team is always keen to listen to the voices of children and young people when developing our Programmes, to make sure that the sessions are both enjoyable and useful for those taking part. For the September SMS:HUB we were delighted to develop and deliver the sessions with the help of our Young Volunteers, Ewan (18), Emily (16) and Blair (13), who have all taken part in a previous SMS:CONNECT Programme. Our Young Volunteers met with Izzie Turley, Children's Health and Wellbeing Coordinator at Children's Health Scotland, and Claire Jennings and Becky McFarlane from See Me Scotland, to select and adapt activities from See Me's 'What's On Your Mind?' pack for our SMS:HUB groups for ages 9-12 and 13-17. The pack is designed to support teachers and young people to learn about mental health and to develop the skills and confidence to tackle stigma and discrimination in school and the wider community. Claire said,
See Me is really looking forward to being a part of this months SMS:HUB sessions with Children's Health Scotland. We are really hoping that all your young people enjoy the sessions, learn something about mental health stigma and also some ways we can tackle it!
For the sessions, Ewan delivered a section about how music can be an effective way of expressing our feelings and managing our mental wellbeing, showing the groups how to use the interactive online emoji jukebox, Feels FM. Ewan chose this activity as music is a big part of his life – he has a huge record collection and in the past has volunteered for a local hospital radio station in Forth Valley, taking requests from patients in the wards. Emily chose to deliver the 'Facts Continuum' activity, coming up with new facts that would be suitable for the 9-12 age group, and encouraging them to use the chat box to decide if they thought the statements relating to mental health were true or false. This was a fantastic opportunity for the group to learn new information about mental health conditions, and to help participants feel more confident in engaging in conversations to tackle mental health stigma. Blair put together statements for the 'Wellbeing Bingo' activity, in which participants shared their own experiences about health and wellbeing in the hope of being crowned Bingo Champion!
The sessions were hugely successful, with 21 children & young people taking part. It was incredible to listen to the group sharing their own personal experiences and challenges with mental health and coming together to support each other. Izzie Turley said,
the SMS:HUB is all about encouraging young people to share their stories and provide peer support for each other so that participants feel better able to ask for help when needed, and to cope with and manage their mental, physical and social health and wellbeing. Emily, Ewan and Blair did a fantastic job of putting together an engaging and informative SMS:HUB session that was well-attended and enjoyed by everyone who came along – including me!
A huge thank you to Claire and Becky at See Me Scotland for their help with these sessions – if you would like to find out more about See Me Scotland, please visit their website at www.seemescotland.org
For more information about our Self-Management Service for children and young people with long-term health conditions, please visit the Children's Health Scotland website, or contact us as sms@childrenshealthscotland.org and a member of the SMS Team will be in touch with you soon!