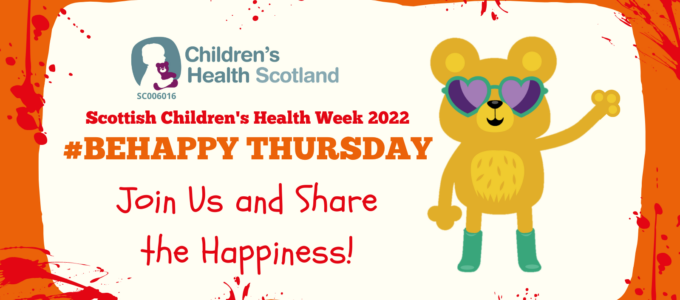 Welcome to Day 4 of Scottish Children's Health Week 2022! Thursday's theme is #BeHappy.
Being happy is not just about feeling good, but also about emotional health and wellbeing and being able to make the most of the good times to cope with the bad ones.
Our Activity Book promoted three happiness ideas which were: thinking of a song that makes you feel happy, making a favourite snack, and going to a happy place.
Happiness really is a skill that we can all learn that will last for a lifetime.
Our partners for the day were ENABLE Scotland, who generously provided us with two super fun ideas for happy activities. One was full body rock-paper-scissors, which is like the normal rock-paper-scissors, but you have to quickly make your body into the shapes you need. The second game involved making and decorating your own props so that you can take funny selfies which is sure to make you smile loads.  
The importance of nutritious food to children and young people's health and happiness is well known. That's why one of the activities from the #SCHW22 Activity Book for #BeHappy Thursday is to make your favourite snack. Article 24 and 27 of the UNCRC emphasises the importance of food as a right for all children. That's why we weren't surprised when we visited Glebelands Primary School to discuss children's health rights with Ilinka, Euan and Reuben, who focussed on every child's access to food. Michelle Wilson discussed equal access to food with the three young people, who created an amazing poster (below) which contains their ideas. Look at the very crafty button fruits! 🍌🍇🍎🍒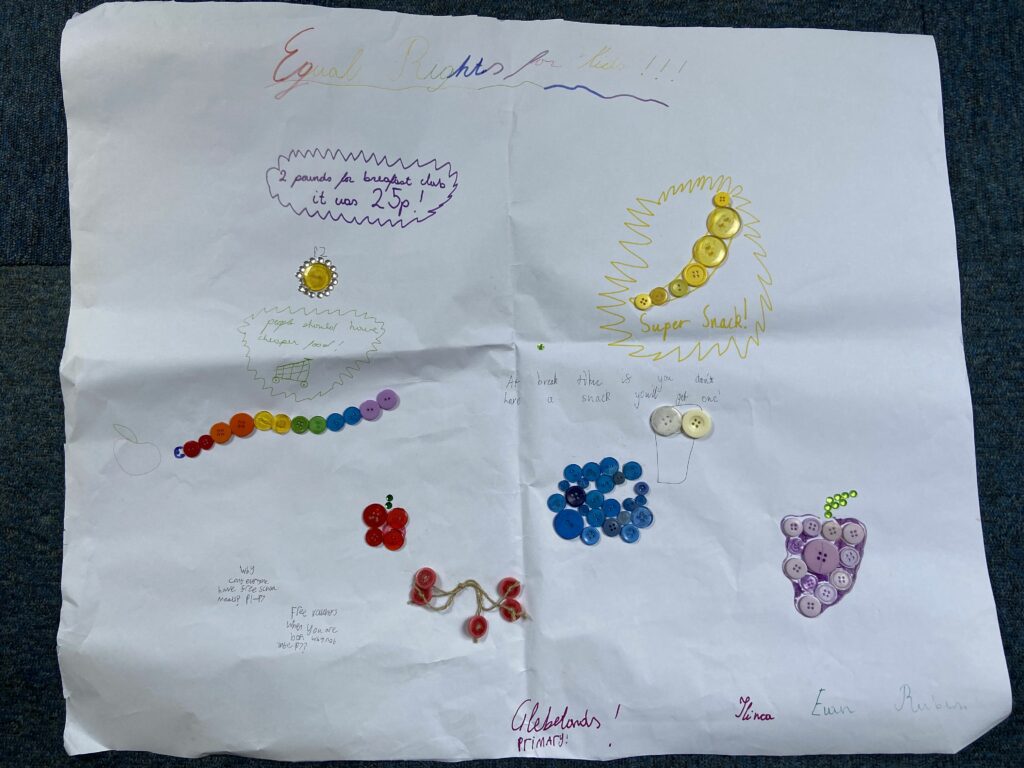 Michelle Wilson, Head of Children and Young People's Health and Wellbeing Services, said "What a great morning I spent with three of the young people from Glebelands Primary school in Dundee. I was invited to meet the UNCRC group and talk about our My Health, My Rights Conference. The young people were delighted to hear that they could have an opportunity to ask our panel a question at the conference. Two of them were moving to secondary school so we decided to make a poster about what they felt was an important health topic and record a question.
"Our conversation was about how expensive healthy food was and the increase in cost of the school breakfast club. The Glebelands UNCRC group were really concerned that not everyone in their school could have affordable healthy food.
"The questions after a lot of discussion were:
Why can't everyone have free school meals P1-P7? and why are there vouchers when you are born not up to P7?
And:
Breakfast club used to cost 25p, but now it can cost up to £2. Why is this happening?
I am looking forward to seeing them again after our conference to talk about what others thought about these important questions."
You can watch Ilinka, Euan, Reuben and Michelle's full discussion below.
We are so happy with our newly created SMS:CONNECT trailer that we wanted to share it again today. We are very proud of the service we provide and prouder still of the recognition that SMS has received by being nominated and winning multiple awards. If you would like to join SMS, please complete the referral form here.
Ready for more SCHW fun? View our activity book here.