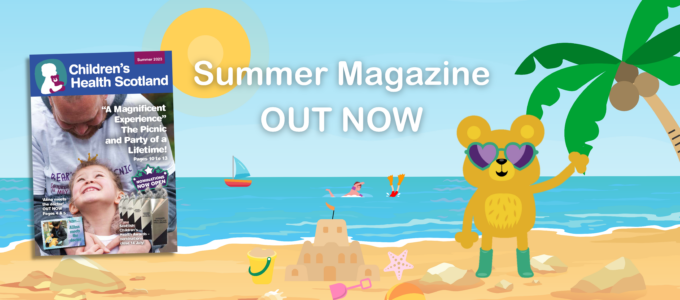 The Summer 2023 edition of the Children's Health Scotland magazine is now available to view online. So, get comfy and enjoy!
12-year-old Alina has additional support needs, is non-verbal and needs help to cope with going to the doctor. Our new story book tells how Alina worked through her anxieties by familiarising herself with medical equipment, playing about different procedures and by understanding her rights to play, to be informed, and to participate in decision making. Learn more about 'Alina meets the doctor' and how to order your copy on pages 4 and 5.
In May, families came together to celebrate Bear's Royal Picnic at Starbank Park in Edinburgh, which was a RIGHTS Royal occasion. We also held Bear's Eurovision Party for our SMS:HUB, the monthly online social gathering for all SMS participants! These amazing events will create lifelong memories for the children, young people, parents and carers who joined in the fun. There is a fantastic gallery of photos and quotes on pages 10 to 13 for you to check out now!
We are so excited about our forthcoming Scottish Children's Health Week and hope you have a 'Save the Date' in your calendar for 4-11 September 2023. This year we are celebrating the week by hosting our inaugural Bear's Tea Party at the Balmoral Hotel on Saturday 26 August 2023. At this event we will present the Scottish Children's Health Awards, talk about the forthcoming activities for Scottish Children's Health Week and announce the launch of our My H Health, My Rights Campaign. Find out more about Bear's Tea Party on Page 3.
Nominations for the Scottish Children's Health Awards close in TWO WEEKS! If you know someone special who deserves to be recognised with an exclusive teddy award, then tell us before Friday 14 July 2023. We have six award categories which you can read more about on pages 18 and 19.
Pages 6 and 7 report on Volunteers' Week (1-7 June), a week when Children's Health Scotland joined thousands of charities recognising the contribution volunteers make across the UK. We are proud to support so many children and young people with health conditions and we feel honoured when anyone of any age and background volunteers and contributes to our work. If you would like to volunteer for Children's Health Scotland or as regular volunteer or as a one-off fundraiser, please get in touch with us at enquiries@childrenshealthscotland.org
Our Care Experienced Children and Young People Service delivers Foster and Kinship Care webinars year-round, and this Spring was no different. Read Pages 8 and 9 to learn some Self Care tips for Carers.
We love working with children and young people to provide them with engaging, relaxing and FUN activities and experiences. Find out more about the water-colourful SMS:CONNECT finale and the delicious picnic with Dundee families on pages 14 to 17.
Finally, the 2023 Annual General Meeting (AGM) of Children's Health Scotland will take place via Zoom on Saturday 30th September 2023 at 11:00am. The activities and finances of Children's Health Scotland from April 2022 to March 2023 will be discussed at the AGM, together with some of our key achievements over the past year. If you would like to attend our AGM please email events@childrenshealthscotland.org.