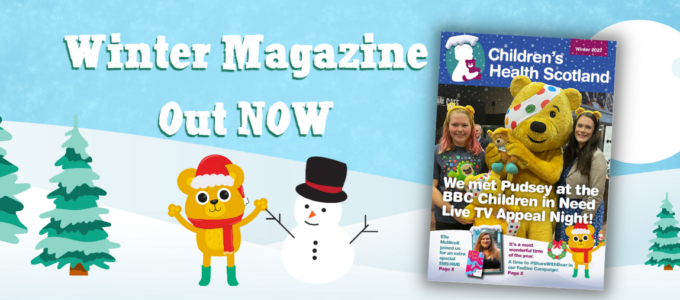 To read the Winter 2022 Magazine, CLICK HERE.
The festive Winter edition of the Children's Health Scotland magazine is now available to view online. So, get cosy, grab and hot drink, and enjoy!
On Pages 4 and 5, read about our fabulous appearance on BBC Children in Need Great SPOTacular Appeal Night. Follow the story of Eve Mclaren, a previous SMS:CONNECT participant, who had an amazing time filming and attending this charity spectacular.
It really is the most wonderful time of year! Do you want to know why? Because it's time for our #ShareWithBear Festive Campaign. You can find out how to join in the fun and #ShareWithBear on pages 6 and 7. Can you help Bear support children and young people with health conditions? We need to wrap up Home Packs to gift to children who access our vital services in 2023. If you can, please make a donation to our campaign!
There's plenty of great news from our Self-Management Services. Read all about Book Week celebrations with Elle and Halloween hilarity with the SMS:Hubbers on pages 8 and 9. SMS:WHYWEIGHT returns, included a fun scavenger hunt activity on page 17. If our SMS Programmes sounds like something you or a child or young person you know would be interested in, then find out how to take part on pages 18 and 19.
Speaking of taking part, you can learn more how we can help you on pages 10 and 11. Find information on all of our talks, presentations and workshops, including first-hand experiences, so that you can know how we can support you in 2023. Please get in touch if you want to know more about any of our sessions: enquiries@childrenshealthscotland.org
Mental Health Concerns for Care Experienced Children and Young People are an incredibly important subject which we speak about frequently. Recently, Anne Wilson took part in a Scotland Policy Conference speaking on this very topic. Here what Anne has to say on pages 14 and 15.
Finally, don't forget that 'Millie meets the dentist', our first published book, is now on sale and available to purchase on our shop. You can learn more about 'Millie meets the dentist' on pages 12 and 13.
Thank you to everyone for your support during 2022! We can only do what we do because of you and we are incredible grateful for any help you can give. If you can donate during the festive period, you will be making a difference to the lives of children and young people with health conditions. Find out what your donations make possible on the back page of the Winter 2022 magazine.
To read the Winter 2022 CHS Magazine, CLICK HERE.